DUB POEMS AND QUOTES FROM THE MIND OF RAS ATIBA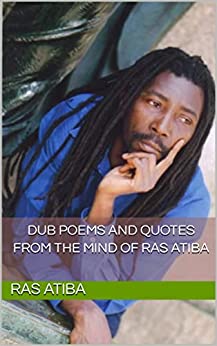 Dub Poet, Emile Ivy, also known as Ras Atiba, was born on the island of Jamaica. He started writing poetry in the late 80s. As a Dub Poet, he has performed locally and internationally. Ras Atiba is based in Brooklyn, New York where he coordinates a regular arts and culture workshop for people of all ages. 
He is the CEO of Ah Time Ras Productions and leader of Sarabita World Band. Ras Atiba attended Mountain View Primary and Vauxhall High School. His poetic abilities has landed him in a few movies, 'What Goes Around', directed and produced by Te-Hut Nine, and 'Fork in the Road', produced and directed by Te-Hut and Mykol Fox. 'Dub Poems and Quotes from The Mind of Ras Atiba' summarizes a journey of observations from a visionary.